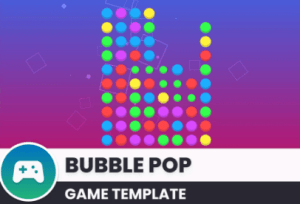 This is a paid asset, but now you can download Bubble Pop – Game Template for FREE, Please keep in mind this package is provided only for learning purposes or to be able to test before buying the product, NOT FOR COMMERCIAL PURPOSES.
Detail this asset from Unity Store: Original Link
Bubble Pop – Game Template v1.3.3
"If possible, please buy the package to support the developer"
Create your own hyper casual bubble game for mobile with this complete project template!
Bubble Pop is an addictive hyper casual mobile game. Select groups of two or more bubbles and pop them to increase your score. The more bubbles you can destroy at once the higher is the score revenue.
This project comes with full source code and has been tested on Android, WebGL and Windows. It supports portrait as well as landscape mode.
Features
Complete game template
Optimized for mobile (Android)
Full source code
Smooth scene transitions
Animated User Interfaces
Tested on Android, Windows & WebGL
Demo
Check out our WebGL demo and give the game a try!
Asset uses: Comfortaa-Light under SIL OPEN FONT LICENSE, Version 1.1 – 26 February 2007;
See "Third-Party Notice.txt" file in package for details.
Bundle Option
Save big and get Bubble Pop together with five other great games for a reduced price as part of our Hyper Casual Games Bundle.
Get paid unity asset for free