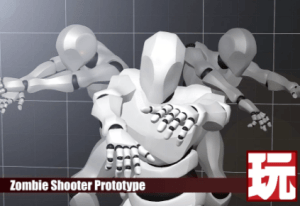 This is a paid asset, but now you can download Zombie Shooter Prototype for Playmaker for FREE, but please remember this package is provided only for learning purposes or to be able to test before buying the product, NOT FOR COMMERCIAL PURPOSES.
Detail this asset from Unity Store: Original Link
Zombie Shooter Prototype for Playmaker v1.5.2
"If possible, please buy the package to support the developer"
Learn the basics of FPS with this template.
All the 3d models, sound effects, animations are included. No scripts. Only Playmaker FSMs!
It is fully customizable. Each Playmaker FSM is named and commented. It is very easy to replace it with your own 3d models.
You should always backup your project before even downloading a new version. It is your responsibility to backup your project before updates.
✚ Free Demo Available! (Standalone and Android APK) ✚
DOWNLOAD HERE
⭐VERSION 1.5 IS NOW AVAILABLE⭐
➤ Features
✔️Multiple Weapon Slots & Ammos system
✔️Walking, Running, Crouching(New) and Jumping
✔️Slope Limit and Sliding
✔️Customizable Footstep System
✔️Pool System
✔️Advanced Recoil System
✔️Interact system
✔️NEW ▶ Mobile Controller
✔️NEW ▶ In-Game Input Manager
✔️NEW ▶ Advanced Hit System
✔️NEW ▶ Crouch and Crouch Jump
✔️NEW ▶ Ladder System
✔️NEW ▶ Peek System
✔️NEW ▶ Pushing System for Rigidbodies or Objects
✔️NEW ▶ Moving Platforms
✔️NEW ▶ Melee Attack for Guns
✔️NEW ▶ Throwing System for Melee Weapons
✔️NEW ▶ Flashlight System
✔️NEW ▶ Auto Pick-Up Ammo System
✔️NEW ▶ New Equipables
-Hand Grenade
-Sticky Grenade
-Sniper Rifle
✔️NEW ▶ Interactable Objects
-Door
-Button
✔️NEW ▶ Physical Objects
-Explosive Barrel
-Destructible Chair
-Destructible Table
✔️NEW ▶ Checkpoint System
✔️NEW ▶ Hit Markers
✔️NEW ▶ Prepared FSMs
➤ Advanced Weapon Settings for Each Gun
✔️Fire Speed
✔️Firing Sound Radius for Hearing Detection
✔️Ammo Capasity
✔️Damage for Head-Body-Arm-Leg-PhysicalObject-MeleeAttack
✔️Decrease Range Damage Factor
✔️Hit Velocity(for physic objects)
✔️Aiming Fov
✔️Recoil Settings
✔️Ejected Bullet Shell
✔️Muzzle Flash
✔️Crosshair
✔️Hit Marker
✔️Sound Effects
✔️Animations
➤ TUTORIAL VIDEO
-Changing Particles
-Changing Zombie Model
-Changing Hand & Weapon Models
-Adding New Weapons
WARNING!
-If you have a ongoing project older than v1.5 DO NOT IMPORT the new version. The asset is totally changed and can not be upgraded! You must delete all the previous files before importing the new version.
-Updated instruction videos. Adding new things is much easier now and easy to configrate!
-The new version is more flexible. You can easily copy/paste the Prepared FSMs to your own.
Check the Forum PAGE for discussions!
You can always ask me about FSMs via e-mail. I offer 24/7 support.
———————————–
*It is the customer's sole responsibility to own Playmaker, no refunds will be issued for failure to own the third party asset.
Get paid unity asset for free