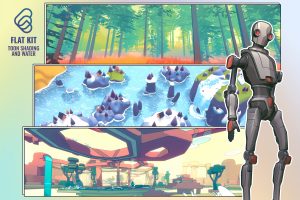 This is a paid asset, but now you can download Flat Kit: Toon Shading and Water for FREE, but please remember this package is provided only for learning purposes or to be able to test before buying the product, NOT FOR COMMERCIAL PURPOSES.
Detail this asset from Unity Store: Original Link
Flat Kit Toon Shading and Water v2.9.8 (Latest version)
(Tested with Unity version 2020.3.23f1)
Flat Kit Toon Shading and Water v2.9.5
(Tested with Unity version 2020.3.23f1)
"If possible, please buy the package to support the developer"
Flat Kit is a complete solution to achieve the stylish cel-shaded look: shaders, models, image effects, presets, examples.
⚡ Last month before the price increase! ⚡
➜ NEW: WATER! We've added a stylized water shader to Flat Kit!
The water shader (available only in URP) has more than 30 parameters, making it super versatile. Yet it's simple to tune and includes 3 full example scenes, multiple meshes and lots of ready-to-use presets.
The custom shading model is versatile enough to work great for classic cel/toon shading and for unique styles of experimental projects.
Demo Video | Full documentation and FAQ
Features:
✔ Polished Toon / Cel shading with lots of capabilities (see below)
✔ Stylized water – super versatile shader and assets that can handle anything from coffee in a cup to an open ocean. Includes buoy script for floating objects to remain on the surface.
✔ Outline effect: depth, normal and color outlines that works both with isometric and perspective cameras.
✔ Gradient fog: Multi-stop horizontal/vertical gradient Fog Image Effect
✔ Terrain shader that works with Unity or third party terrain
✔ Light Plane shader for 3D highlights and god rays
✔ Mobile support
✔ Built-in and URP support – the surface shaders and post-processing effects support both rendering pipelines.
Nice bonuses:
➊ Precise control over shadows – ideal for character lighting
➋ Ability to control Unity built-in shadows
➌ Indirect lighting support
➍ Intuitive, simple and streamlined interface — use only what you need
➎ Color the scene precisely — without guesswork
➏ Full source code
➐ Elaborated online manual
➑ Vertex color support, including Polybrush
Core Cel shader overview:
★ Cel shading with parametric banding: single, steps, curve
★ Independent cel layers that can be layered to achieve unique look.
★ Height gradient layer
★ Outline shader with multiple modes
★ Blend between normal and cel shading with a slider
★ Specular and rim lighting bring stylized lighting controls to your objects
★ Normal map support
★ Reusable custom lighting in a shader library that you can integrate in your shaders (not required).
The package includes:
➕ 4 uber-shaders with lots of toggles and parameters
➕ Custom lighting library for toon shading
➕ 2 post-processing effects: fog and outline
➕ 11 demo scenes
➕ 100+ models
➕ 20+ material presets
If you have any questions, please let us know!
[email protected] | @_dstrm | Online manual
Get paid unity asset for free